General check ups
Your child should have regular health supervision for purpose of keeping healthy and check on his or her general health and growth.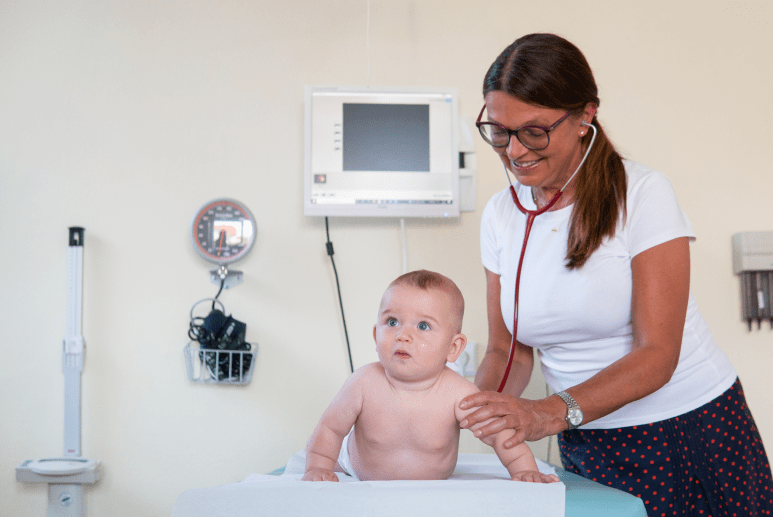 Infancy
First year – Health supervision visit at about 1-2 weeks of age and 8 visits before 1 year of age at regular intervals –usually two months.
Second year –Health supervision visit at 12 and 18 months, or more often if recommended by your pediatrician.
Preschool period
Health supervision visit at 3 and 5 years
School – age period
Health supervision visit at 7, 9, 11, 13, 15, 17 and 19 years of age
When performing a physical examination, the health care professional's attention is directed to the following components of the examination that are important for a child:
A complete physical examination is included as a part of every health supervision visit.
Appropriate screening tests for growth and development, vision, hearing and urine test
A review of your child´s medical history since last visit
Filling in the growth chart to see the exact development of your child´s growth
Immunization during infancy against whooping cough, diphtheria, tetanus, polio, measles, mumps, rubella, hepatitis B, Haemophylus influenzae. Later, booster and newly available immunizations as advised by your pediatrician.D
Discussion about your child´s care with recommendations for the handling of any special health problems
Schedule of Examinations and Vaccination       
| | | | | |
| --- | --- | --- | --- | --- |
| Age | Examination | Mandatory vaccination | Optional vaccination | Handouts |
| 0-7 day | First regular check up | BCG if indicated | | Schedule care and vaccination |
| 2 weeks | Regular check up | | | Hips US |
| 6 weeks | Regular check up | | Rotarix x RotaTeq | Vaccination info |
| 2-3 months | Regular check up | Infarnrix Hexa | Rotarix x RotaTeq | |
| 3-4 months | Regular check up | | Bexsero + Prevenar 13 | Food schedule |
| 5-6 months | Regular check up | Infanrix Hexa | RotaTeq | |
| 7-8months | Regular check up | | Bexsero + Prevenar 13 |  Hearing screening |
| 10 months | Regular check up | | |  Plusoptix |
| 12 months | Regular check up | Infanrix Hexa | Prevenar 13 | Home safety checklist |
| 13-15 months | | M-M-RvaxPro | Bexsero | |
| 18 months | Regular check up | | |  M-Chat Q |
| 12-24 month | | | Nimenrix,, Havrix, Varilrix | Plusoptix |
| 3 years | Regular check up | | FSME | |
| 5 years | Regular check up | Boostrix, M-M-RvaxPro | |  ENT Hearing screening |
| 7 years | Regular check up | | | |
| 9 years | Regular check up | | | |
| 10 years | | Adacel Polio | | |
| 11 years | Regular check up | | | Selfexam testes |
| 13 years | Regular check up | | Gardasil 9 | |
| 15 years | Regular check up | | Nimenrix, Bexsero | |
| 17 years | Regular check up | | | |
| 19 years | Regular check up | | | |
More informations about vaccination on our website: www.pediatrie.cz